Paw Balm for Dogs: What it is, How to Use It & More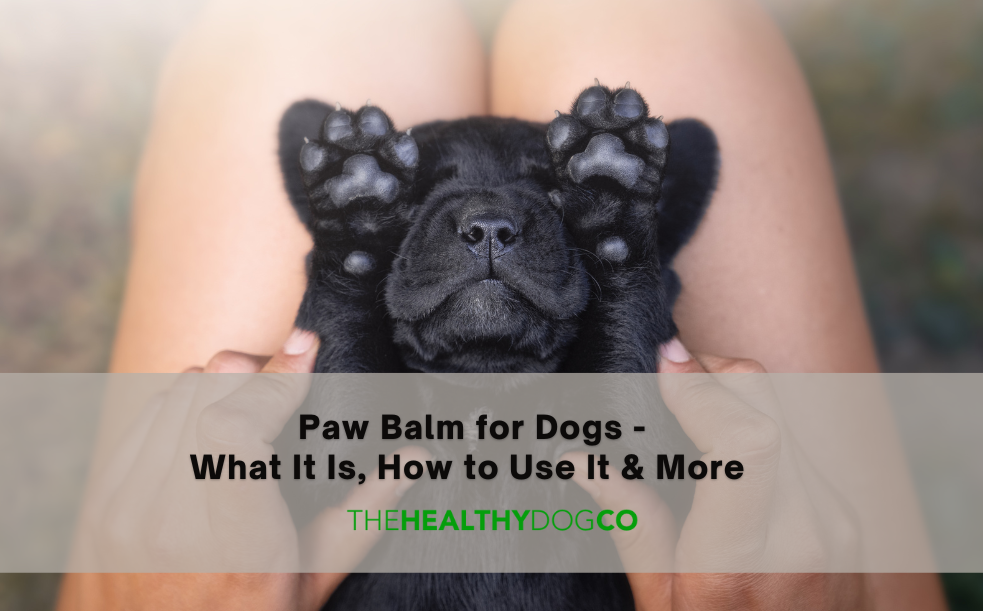 In this article, we'll talk about our all-natural paw balm for dogs and how to properly use it. Additionally, we'll cover these related topics:
Symptoms of paw pad injuries & how to treat them
Reasons for injured and cracked dog paw pads
Bonus: Why is my dog's nose dry or cracked?
Paw Balm for Dogs: What It Is, How to Use It & More
What Is Dog Paw Balm?
Paw balm for dogs acts as a barrier between paw pads and the ground. It helps retain moisture for long-lasting protection and offers immediate relief for paw pads that are:
Dry
Damaged
Cracked
Chapped
Burned
Ripped up
Scabbed 
That said, you can use it all year to keep your dog's paws in top condition, specifically to moisturise your pup's pads.
It's especially useful in the harsh winter to protect against the effects of rock salt & ice and in the summer to ease against heat related irritations. For example, caused by walking on hot pavement and sand.
Soothing dog paw balm is also a great idea for hunting dog paw protection as hunting dogs are much more exposed to rocky terrain than pet dogs!
THDC All-Natural Paw, Nose & Skin Balm For Dogs (& Cats): All Natural Safe Dog Paw, Nose & Skin Moisturiser
3 In 1 Solution
Crafted from healthy and nourishing oils, butter and wax, our paw balm goes beyond offering relief for cracked dog paws!
As a matter of fact, it's a multi-purpose solution to care for dog pads, but also for noses and skin. 
Soothes Cracked Paws With Deep Moisturizing
Nourish and enrich your pet's skin with our soft-as-lotion dog paw balm.
Formulated for skin cracking, scratches and cuts, this paw wax is also great at creating a barrier on dog paws/pads to help against hot pavements, rock salt and ice.
What if My Dog Licks Paw Balm? Unscented Formula
To deter your pet from licking the balm cream off, we created this dog paw balm to be odourless and as unflavoured as possible.
That's because scented varieties can bother pets, causing them to lick off the protective balm barrier.
That said, they're much more likely to leave ours in place, allowing it to penetrate deeply and restore health to their skin.
Safe Ingredients For Delicate Digestive Systems
Of course some dogs will (attempt to) lick anything that makes it onto their body regardless of how unscented it is...
That's why our natural dog paw balm is blended from superior food-grade safe ingredients that turns it into a lickable dog paw balm!
We use olive oil, coconut oil, vitamin E oil, candelilla wax, mango and shea butters with no artificial preservatives or fragrances.
Dog Paw, Nose & Skin Balm Made In The UK
How to Properly Use Dog Paw Balm
So how often should you use dog paw balm?
For best results, rub our dog paw balm 1-2 times per day onto your pet's paw pads. As mentioned above, you can also use it on hot spots on their skin or nose.
Tip: It's easiest during snack time while your pet is distracted!
The odour-free balm is irritation-free and won't cause your pet to lick it off, but in the event (s)he does, it's a safe formula for ingesting. 
Tip: You can also use it for dog paw (& nose) hyperkeratosis.
That's a condition that occurs when the body produces more keratin than needed, causing an abnormal growth of keratin on the dog's outer skin layer.
This happens mostly in older dogs and causes their noses and/or paw pads to thicken.
When that happens and it's left untreated, your dog's ability to smell and walk will be impacted at best and become infected at worst. 
Breeds that are particularly prone to suffering from dog hyperkeratosis are:
English & French Bulldogs
Irish & Bedlington Terriers
Dogues de Bordeaux
Golden Retrievers
Labradors
Boxers
The best way to treat hyperkeratosis is to soothe the affected areas on your dog's body with our dog paw cream as needed.
You can also use it to prevent dog noses and paw pads from drying out, especially if your pup is one of the breeds listed above!
Symptoms of Paw Pad Injuries & How to Treat Them
Besides abnormal thickening of the paw pads, watch out for the following: 
Favoring a paw over another
Bleeding
Blisters
Limping
Licking
When you notice any of these symptoms, it's time to take a closer look at your dog's paw(s).
Before you do, make sure that you either muzzle your dog or have someone there with you to hold your dog. That's to ensure that your pup won't accidentally bite you while you inspect their wound. Even the calmest dog can bite when they're in pain!
You can also give them some of our All-Natural Tranquility Drops. They help calm, soothe and destress your pup (and cat)!
Treating a Dog Paw Pad Injury At Home
Check for any foreign objects such as pieces of glass, metal or thorns and remove them carefully.
If your dog's paw pad is bleeding, stop the bleeding before you do anything else by applying pressure with a clean towel, cloth etc.
Next, flush your dog's paw with warm water and antibacterial soap and pad it dry with a clean cloth.
Now you can apply some of the Healthy Dog Co's All-Natural Itchy Skin & Wound Care. To apply to an open wound, spray some of it onto a clean cotton pad and then gently dab it onto the wound. 
It's a non-toxic anti-itch spray that numbs, moisturises, helps heal and has antiseptic properties.
Once the paw pad injury has healed, you can keep the paw pads moisturised with  our all-natural paw balm!
When to See Your Vet 
If your dog's paw pad is bleeding profusely to the point where you can't stop the bleeding at home, it's time to call your vet or an emergency vet clinic. Let them know you're on your way to see them so they can prepare for your visit ahead of time.
You should also take your pup to the vet if the paw pad has been torn so badly that it's came off in its entirety. 
Reasons for Injured and Cracked Dog Pads
The following 3 reasons are the main culprits for your dog's paw pad injuries:
Dog steps on something broken or sharp (metal, glass, rocky terrain)
Dog walks on areas treated with chemicals (mostly during winter)
Dog walks on very hot pavement
Of course it's important to treat paw pad injuries as they happen, but it's also a good idea to try to prevent them from happening in the first place.
Our soothing dog paw balm can help with that! Just apply it to your dog's paw pads regularly to keep them moisturised at all times.
Bonus: Why Is My Dog's Nose Dry or Cracked? 
Now that we've explained how dog paw pads can get injured, let's look at reasons why your dog's nose is dry or cracked.
After all, our paw balm serves double duty as a moisturising dog nose balm:
Lots of sun exposure
Dry winter air/fire place
Dehydration
By the way, breeds who are prone to dry noses are brachycephalic (i.e. short-nosed) breeds like Boxers, Bulldogs and Pugs. That's because their tongue can't reach their nose to lick it and keep it moist!
So if your dog's nose has a tendency of being dry, crusty and cracked, you can help heel your dog's dry nose naturally with our multi-purpose, 3-in-1 paw, nose and skin balm solution. 
Additionally, always offer your pup clean drinking water. If your dog doesn't drink enough on their own, try adding some water to their food at mealtime. 
Paw Balm for Dogs: Bottom Line
If your dog suffers from unhealthy dog paws, you can treat them with soothing paw cream because it:
Moisturises
Soothes
Heals and
Protects
It's also a great way to naturally treat dog hyperkeratosis of the paw as well as dog hyperkeratosis of the snout and dry dog noses that are cracked. 
As you've learned, the butter soft balm from The Healthy Dog Co is a 3-in-1 solution that keeps your pet's nose, paws and skin supple and smooth! 
It's made with 100% natural ingredients to ensure your pet's safety.
Since it's a food grade ointment with a chemical free compound, it's even safe for licking. 
Apply daily so your dog (or cat!) won't be bothered by irritating abrasions or cracks on their paw pads, nose or skin.
The Healthy Dog Co Resources
Related Reading
About The Healthy Dog Co
The Healthy Dog Co's mission is to create products that dog and cat owners can trust with the health of their pets by only producing products with healthy, safe, all natural ingredients.
At The Healthy Dog Co, it's all about giving your pet a healthy and happy life with All Natural Health, Happiness and Care Products.
Because Your Pet Deserves Better!
Shop our range of All Natural Healthcare Products for your Dog or Cat today!
Shipping Info: All orders are processed within 1 business day and delivered within 2-3 days of placing your order. We offer free shipping on orders above £20; and a flat rate of £1.99 to anywhere in mainland UK.