Why Is My Dog Shampoo Not Foaming?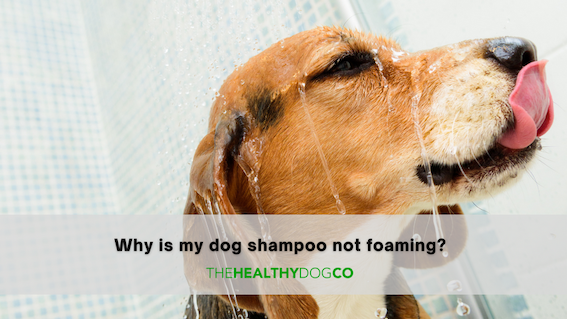 Most of us associate a good dog bath with lather or foam. Consequently, if your pup's shampoo isn't foaming, you might think something is wrong. 
Thankfully, this couldn't be further from the truth and it most certainly doesn't mean that your dog shampoo is off or expired!
While many dog shampoos contain Sodium Lauryle Sulphate (SLS) an emulsifying agent, ours don't. The reason for this is simple: SLS is bad for dogs.  
Here's what we'll cover in this blog post:
Why is SLS bad for dogs?
What's the best shampoo for dogs?
How we're combining dog safety & cleanliness at bath time
Why Is My Dog Shampoo Not Foaming?
Why is SLS Bad for Dogs?
SLS isn't just bad for dogs and other pets. Current research suggests it is toxic for aquatic life, and could even be an irritant for humans. When it comes to dogs, SLS in shampoo could cause extreme discomfort, pain, and even disease in the long term.
We're going to break down some of the reasons SLS may be bad for your pet.
Sensitive Skin
You may have noticed that dogs have sensitive skin, in fact, their skin is a lot thinner and a lot more sensitive than that of humans. Furthermore, pain sensitivity also differs within dog breeds.
Breeds like Chinese shar-peis, spaniels, and American bulldogs are among the many that have highly sensitive skin and are more prone to irritation than others. 
Regardless of what breed your dog may be, do understand that SLS in shampoo can feel anywhere from extremely irritating to highly painful to your dog. 
Long Term Damage
SLS is particularly harmful for puppies and younger dogs as well as aging pets. Long term exposure to SLS through pet care products has been associated with cataract formation. 
Further, SLS has also been known to interfere with the production of certain proteins in puppies which in the long run has resulted in complete blindness. 
Needless to say, SLS is best avoided if you're shopping for shampoos for your pet! 
Other Ingredients to Avoid
SLS isn't the only ingredient to avoid in your pet or dog shampoo. Another group of harmful substances that is used in many shampoos are parabens.
Parabens are used in several cosmetic products and were even once used as preservatives – that is, up until we realized how toxic these could be. 
Why Parabens are Bad for Dogs
According to studies, parabens interfere with the function of endocrine receptors disrupting normal processes. In higher quantities, these have been linked to extreme toxicity. 
Apart from this, long-term exposure to parabens has been associated with complications associated with the endocrine, immunological, and reproductive systems of domestic animals.
What's the Best Shampoo for Dogs?
If you want to find the best shampoo for your dog, the first thing you need to remember is to go for paraben and sulphate-free dog shampoo. 
Though this should not be complicated, the problem is that there are several pet product producers out there that list these ingredients with different names – in other words, you can't be sure if the shampoo you're buying is actually free of these chemicals.
At The Healthy Dog Co., our pets and yours are a top priority, so we make sure our products animal friendly and safe to use. 
What are Your Options?
Our range of all natural dog shampoos has something for your furry friends regardless of breed, age, or anything else. Better yet, our products are sulphate-free, paraben-free, and hence soothing and safe for your pets. 
We've listed some of our sulphate-free shampoos here with a little bit on why they might be ideal for your pup, so have a look! 
All Natural Itchy Dog Shampoo and Conditioner
Itching can seriously agitate our dogs and result in irritability. Our all natural itchy dog shampoo and conditioner is designed for pets who are prone to skin irritation and itching. 
This sulphate-free pet shampoo soothes your dog's skin, allowing your pet to feel a lot more comfortable and a lot happier!      
All Natural Flea Shampoo
Let's face it; fleas are vile creatures. They don't just make our pets miserable. They can be a serious health hazard to pets and human beings alike! Fleas can carry diseases such as typhus so you really don't want those creatures anywhere near your home or your pets!
Our fast-acting all natural sulphate-free dog shampoo is the perfect way to combat not just fleas; but mites, ticks, and even lice. This product is sure to bring relief to your agitated pet and is available on our website. 
All Natural Scented Dog Shampoos
Our line of all natural scented dog shampoos are available in fresh and relaxing fragrances such as honey & oatmeal, and, lavender & camomile. These shampoos are gentle on your dog's skin and keep your their coat nourished and clean. 
We even offer a baby powder scented sulphate-free puppy shampoo that is extremely soothing and made with the mildest ingredients. 

6 in 1 Dog Shampoo for Sensitive Dogs
Finally, our 6 in 1 shampoo and conditioner for sensitive dogs is extremely useful if your dog has sensitive skin, is irritable during bath time, or belongs to one of the breeds mentioned earlier. 
This extra mild shampoo and conditioner is designed to allow for a thorough cleaning while making sure your pets are calm and easy throughout the process. 
This product is also ideal for dogs with a lot of fur or thick coats as it helps both nourish and untangle.
How We're Combining Dog Safety & Cleanliness at Bath Time
Being dog lovers ourselves, we went about creating products that were free of all the chemicals and ingredients that could potentially cause our pets discomfort. At the same time, we understood how one simply could not compromise on hygiene and cleanliness when it came to our homes and our pets. 
Keeping these two things in mind, we have produced products using carefully selected natural ingredients that are both effective and non-hazardous for our pets. 
Our no-tear, gentle, parabin and sulphate free, all natural shampoos are exactly what you should switch to if you find the products you are currently using ineffective, unsafe, or uncomfortable. 
Where lathering or foaming shampoo might be something we as people appreciate, our pets might not share that sentiment. Yes there are many brands that continue to use parabin and SLS in their pet care products, but we're proud to say that we're not among them. 
Why Is My Dog Shampoo Not Foaming: Bottom Line
When it comes to dog shampoos, it isn't the lather or foam you should be worried about. What you should take into consideration is what your products are made of, what affect the ingredients have, and whether or not these are safe and comfortable for your pet. 
At The Healthy Dog Co., we can say with confidence that our products are all designed keeping your pets' health and safety in mind. There's no need to compromise on either when you have effective natural options available.
Using pet grooming products made with the right ingredients and the right amount of care guarantees that your dog will be healthy, happy, hygienic, and extremely comfortable! 
About The Healthy Dog Co
The Healthy Dog Co's mission is to create products that dog and cat owners can trust with the health of their pets by only producing products with healthy, safe, all-natural ingredients.
At The Healthy Dog Co, it's all about giving your pet a healthy and happy life with All Natural Health, Happiness and Care Products.
Because Your Pet Deserves Better!
Shop our range of All Natural Healthcare Products for your Dog or Cat today!
Related Reading:
How to Give Your Dog a Bath